Inhabiting the Crossness Foreshore
with Victoria Noakes and Crossness River Action Group
Crossness Thames Foreshore, SE28 8QH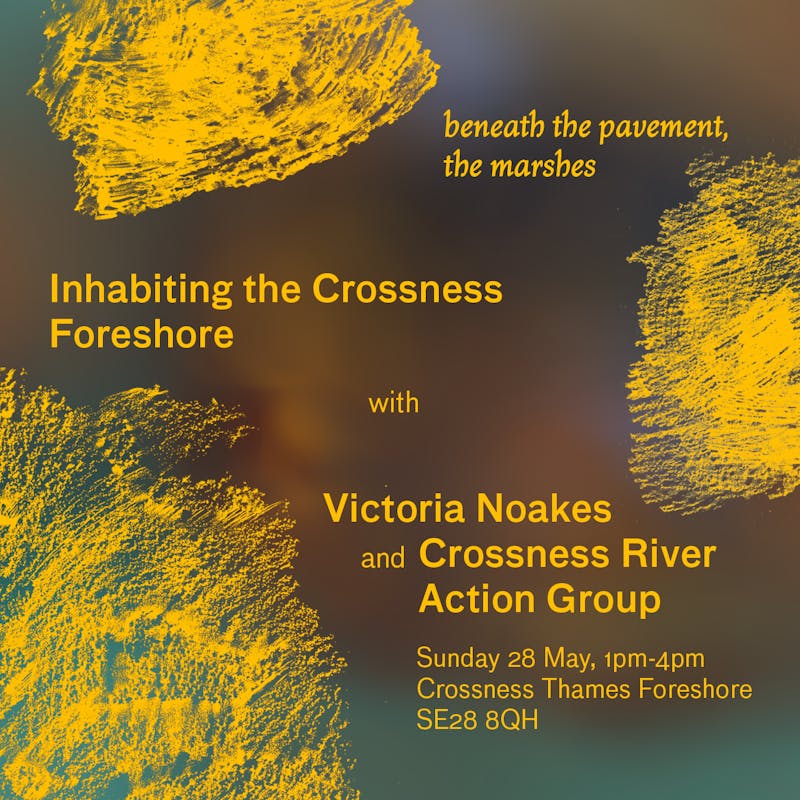 Inhabiting the Crossness Foreshore with Victoria Noakes and Crossness River Action Group
Sunday 28 May, from 1:00PM - 4:00PM
Crossness Thames Foreshore, SE28 8QH
Thames Path (between Lytham Close, SE28 8QH and the Crossness Pumping Station)
Join visual artist Victoria Noakes for an immersive making workshop to re-imagine the Crossness Thames Foreshore. Beginning with a listening experience created by Victoria, we will move across the Thames Path following the audio guide which directs our attention toward plant life along the shore, surrounding industry and infrastructures, and the natural inhabitants of this environment. Then we will use clay and sketching tools to sculpt and draw objects inspired by the landscape, found debris, and the foreshore's non-human wildlife. 
Each participant will be invited to make and craft whilst looking at debris collected from the foreshore, sharing their observations as drawings or sculptures. To listen to the audio guide participants are asked to please bring their own headphones, a charged phone, and access to the internet on their phone to listen to the audio hosted online.
We will provide participants with free sandwiches and drinks (gluten free and vegan options will be available).
The event is FREE & all are welcome - but booking is essential at the Eventbrite here: https://www.eventbrite.co.uk/e/inhabiting-the-crossness-foreshore-with-victoria-noakes-tickets-629809947507
ATTENTION!
Participants won't be invited to go down to the foreshore but are encouraged to see the landscape from along the Thames Path, a flat path for cyclists and walkers.
Victoria's workshop will take place up along the grasslands of the Thames Path. There is minimal shade at this location, sunscreen will be provided, and we encourage participants to please wear appropriate clothing, footwear and hats.
This is the second event for beneath the pavement, the marshes, a new creative programme bringing artists, activists and ecologists together with local environmental and community groups working in north Bexley, to explore the ground beneath our feet.
ABOUT:
Victoria Noakes
Victoria Noakes is a spatial practitioner whose passion for the Thames spans across their interdisciplinary practice as an architect and artist. Victoria enjoys facilitating artistic activities that later feed into solving deeper social and environmental issues embedded within the architecture and policies of our cities.
Crossness River Action Group (CRAG)
This event has been created in partnership with the Crossness River Action Group (CRAG) who will be working on the foreshore from 10:00am with local volunteers to remove all litter - particularly plastic - from the foreshore.
If you'd like to join earlier in the day, please see more information here: https://www.eventbrite.co.uk/e/crossness-foreshore-clean-up-may-2023-plasticblitz-tickets-475570162157
Please note, Victoria's workshop will begin at 1:00PM.