Slade Green Goes Marching On!
with post workers theatre & Slade Green Knights
Text by Community Critic Dani Tagen
Typography by Gaile Pranckunaite
Photos by Dani Tagen & Three Rivers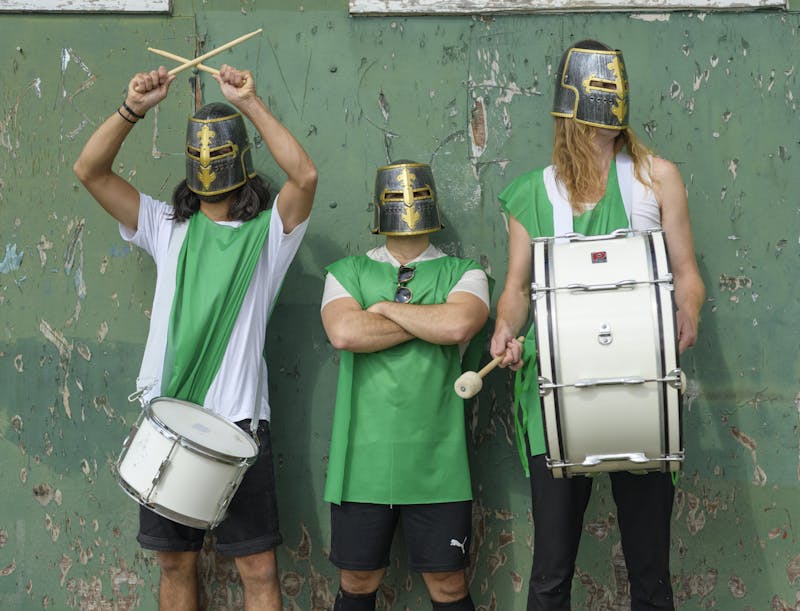 Design troupe Post-Workers Theatre have teamed up with the Slade Green Knights to explore the importance of grassroots football in the area.
THE GRASS IS NOT ALWAYS GREENER
I first heard about Slade Green through a friend who had lived in Thamesmead for a long time. When he heard that I was going to visit he said: "Have you ever been to Slade Green?" "No." "Be ready, it's a dangerous place...a s***hole."
When I was moving to Thamesmead, everyone said the same thing. And yet here I am; happy, safe and still enjoying myself 3 years on. But this introduction to Slade Green made me really curious about the area. So, I decided not to do any research, not look at pictures, not even use Google Maps to sneak peek my way out of the train station before I arrived — something I love doing before going somewhere new. I wanted, as much as possible, to have my own take of the place.
My meeting was set at the Corner Pin, a pub about a 10 minute walk from the station. I was meeting with Post-Workers Theatre (PWT), a group that share narratives of hope and resistance through performance and play. They introduced me to their project 'Slade Green Goes Marching On!' in which they are working with the Slade Green Knights football team to create new chants.
I really like this idea for two main reasons. Firstly, it's about looking at culture that already exists in the community without imposing an idea of what culture is. Most culture-related projects that bring outsiders to a community, tend to have an idea of what culture means and what that community is missing. With 'Slade Green Goes Marching On!,' Post-Workers Theatre is committed to understanding the needs of the community and then reflecting those needs in the lyrics.
The second reason is that PWT is not afraid of putting themselves in a position where the community might not like the songs. When I asked about that, they said that if the community doesn't like the chants they write, they can change the lyrics. They can create their own chants or do nothing if they don't think they are useful. Their aim is to facilitate cohesion and a sense of belonging. I think this is beautiful because, in a way, the project has no room for failure. If the community refutes the chants created by PWT, they are already getting together and deciding on something; this will be a strong sign of unity and a new conversation will be triggered anyway.
PWT chants talk about the issues in the area like housing, the state of their football pitch and the lack of a kitchen in the football hut. They interviewed local people and used quotes as a base for new lyrics, whilst the tunes are based on the history of football chants in the UK.
Their first presentation was at the local football pitch where kids were training, on a sunny Saturday morning. They arrived unannounced, without any introduction and started singing the chants with a microphone and a couple of drums. People — the kids, their families and the coaches — didn't pay much attention at the beginning but slowly I could see their curiosity increasing as they started to make sense of the lyrics. PWT then moved about on the pitch, trying to get as much attention as possible. But when their microphone/amp stopped working, they carried on singing and shouting, and something magical happened: the kids that had just finished training came over and asked if they could play the drums. This was all PWT needed: a way in, a spark to ignite the connection. As soon as the kids took over the drums and joined the song, the adults got closer as well and everyone on the pitch had a smile on their faces. PWT took the opportunity to open the invitation for their next performance, which would take place the following Saturday at the same place with the added bonus of burgers and drinks at the Corner Pin pub afterwards.
The best part for me was when a lady, a neighbour of the football pitch, came out into her back garden and cheered the singing. That to me showed a sense of community and engagement, an acknowledgement that someone is saying something relevant.
In the end, my impression is that Slade Green is not a s***hole. It's a place where local residents still feel connected to one another, enough to come out of their houses to cheer a chant about their local issues. It is funny how people that live in places with a bad reputation sometimes like to say bad things about other places, as if saying somewhere else is worse makes them feel a bit prouder of their own s***hole.
The reverse effect of 'the grass is always greener,' I guess.